IcosaBlue 2.0, Now with Weekend Teapot!
June 11, 2012
I've rewritten IcosaBlue, an example OCaml app that shows how to use OpenGL ES 1.1 under iOS. It works under OS X 10.7 (Lion) and still displays a rotating blue icosahedron.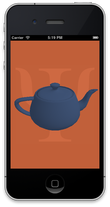 However, to keep the excitement at a high level, I added a new feature to IcosaBlue for version 2.0. On weekdays, it still displays the traditional rotating blue icosahedron, but on weekends it displays a rotating blue teapot (shown in screenshot).
I'm now thinking about new features to add in future releases. I'd still be interested in coding up some kind of competition for supremacy among different polyhedra. But the new teapot display suggests that some other household objects might be able to compete as well.
As usual, the old version of IcosaBlue is available in the OCaml Programming Archives.
Please leave any questions or comments below, or send them to me at jeffsco@psellos.com.
Posted by: Jeffrey
Comments
blog comments powered by

Disqus