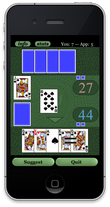 Master Schnapsen/66 is an app for the iPhone, iPod Touch, and iPad that plays two classic card games, Schnapsen and Sixty-Six. Many people consider them the best two-person card games, and we're inclined to agree. Our app plays at three levels—at the Master level it's a formidable opponent.
Schnapsen and Sixty-Six are like miniaturized versions of Pinochle, surprisingly easy to play well but challenging to master. If you're new to the game, there is a Suggest button that makes it easy to get up to speed. It's like having an expert player to give you advice.
We also released Master Schnapsen/66 Lite, which you can try for free to see if you like the game. Both apps are now available on the App Store.
Read all about the apps, and the games, on our Schnapsen page.
The Schnapsen Log is a series of columns about the card game Schnapsen, and how to play like a master. It's even more like having an expert player to give you advice!
Recent columns: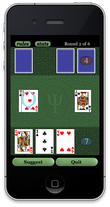 Our first app for iOS plays the classic card game Cassino. You compete against the little computer inside the iPhone (or iPod Touch or iPad) to see who can capture the most cards.
The Cassino app supports three variants of the game. Two variants follow traditional scoring to 21. The third has simplified scoring, for faster and more casual games—excellent for when you're standing in line for a latte.
Cassino is available on the App Store, a steal at 99 cents US (or similar steal in other currencies).
You can read all about the app, and the rules of the three variants, on our Cassino page.
We are happy users of the functional programming language OCaml. We used it to create the Schnapsen/66 and Cassino apps for iOS, as well as many example apps for iOS with freely available source.
Note: The OCaml-to-iOS cross compiler is currently based on OCaml 4.02.3.
OCaml on iOS
We have a page of resources for OCaml programmers where we show how to get (or build for yourself) an OCaml cross-compiler for iOS devices (iPhone, iPod Touch, iPad). We also show how to build our OCaml interface to the iPhone's OpenGL ES graphics system.
You'll also find the full source code for three working example OCaml iOS apps that are packaged to run on iOS devices, Portland, Slide24, and IcosaBlue. The first two show how to use Cocoa Touch from OCaml, and the third shows how to use OpenGL ES.
OCaml on iOS Simulator
We also have some resources to run OCaml apps in the iOS Simulator. This is an excellent way to get started with OCaml on iOS: all you need is a copy of Xcode. If you're interested, our OCaml page shows how to get (or build for yourself) an OCaml compiler for the iOS Simulator.
We also give full source code for two example apps that are packaged to run in the iOS Simulator, Gamut and Voronoi. In addition, we've packaged the IcosaBlue app (described above) for the Simulator as well as for iOS devices.
While porting OCaml to iOS devices and working on our apps, we learned some out-of-the-way things about iOS and iOS development. Read the latest discoveries on the iOS Development page.
One of us (Jeffrey) writes a sporadic blog about what we're doing at Psellos.
Recent posts:
Learn about this site and the people behind it.